The Jamaica Inn is an inn in Cornwall, England.
The Jamaica Inn, originally a public house and now an inn, is a Grade II listed building in the civil parish of Altarnun, Cornwall, United Kingdom. Located near the middle of Bodmin Moor near the hamlet of Bolventor, it was built as a coaching house in 1750 as a staging post for changing horses during stagecoach runs over the moor. It is accessible in present-day by the A30. The hill named Tuber or Two Barrows, 1,122 feet (342 m), is close-by. The inn is famous for being the base of smugglers in the past and has gained national renown for allegedly being one of the most haunted places in Great Britain. It is also known as the setting for Daphne du Maurier's novel of the same name, published in 1936. The young author at the time was inspired to write her novel when, having gone horse riding on the moors, she became lost in thick fog and sought refuge at the inn in 1930. During the time spent recovering from her ordeal, the local rector is supposed to have entertained her with ghost stories and tales of smuggling; he would later become the inspiration for the enigmatic character of the Vicar of Altarnun. The novel was made into the film Jamaica Inn in 1939 by Alfred Hitchcock and a 1983 television series, Jamaica Inn, starring Jane Seymour. In addition to its use in literature, and film, the hotel is referenced in "Jamaica Inn", a song written by Tori Amos on her album The Beekeeper, written while she was travelling by car along the road of the Cornwall cliffs, and inspired by the legend she had heard of the inn.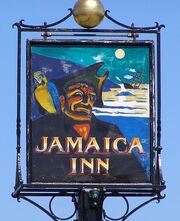 The Most Haunted team did not witness much in the Jamaica Inn itself but in the basement they heard many taps and strange noises. After Yvette said "please, if you want us to leave then give us a definate sign" Stuart Torevell is apparently grabbed which caused the whole team to go beserk in fear and flee the room in fear.